A little hidden gem in the heart of Corsica, the Purcaraccia waterfalls are nestled in the mountains in the south of the island, in the Solenzara region.
This must-see place attracts attention every year hiking, canyoning and swimming enthusiasts looking for a refreshing break. Discover all our practical information for exploring the Purcaraccia waterfalls!
Cool break at Purcaraccia waterfalls
Located 17 km from Solenzara and 13 km from Col de Bavella, au Southern Corsica, Purcaraccia waterfalls are of rare beauty! Visitors can't be mistaken either, as many come here every year to enjoy the city. fresh waters this flood down the mountain amazing pools and sinks with crystal clear water. Natural slides carved into the rock allow you to dive headlong into the emerald water.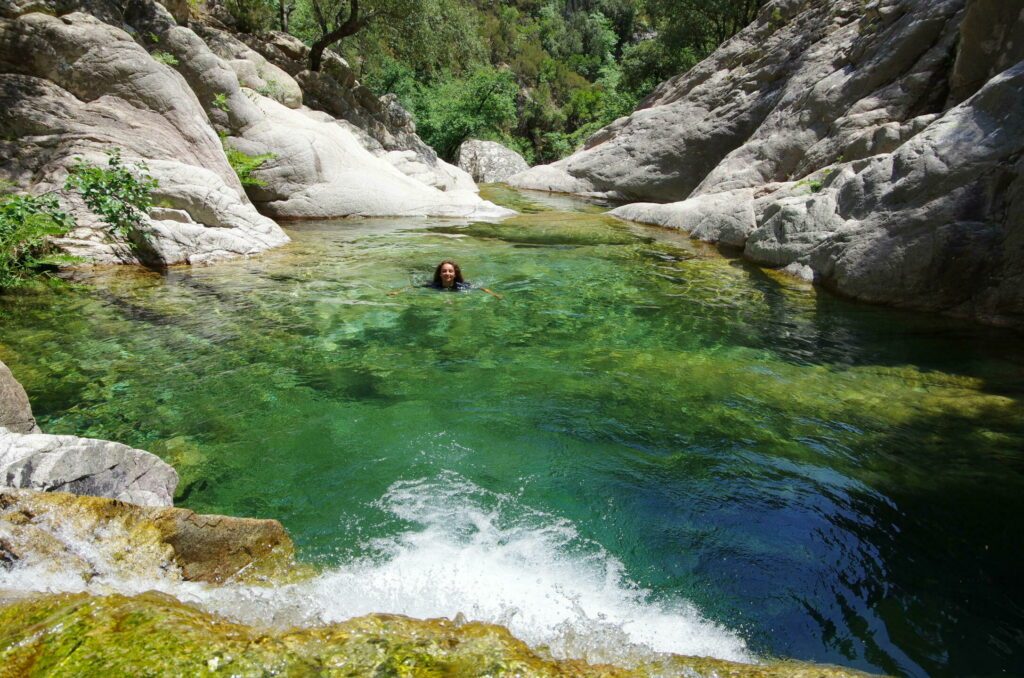 How to get to Purcaraccia waterfalls?
Purcaraccia waterfalls are located Near the D268The Bavella route, which starts from Solenzara and goes upriver to the Bavella pass at 1,218 meters above sea level. From Solenzara, you'll have to traveling 18 kilometers to reach the parking lot located at the entrance of the hiking trail. The end of the route is on foot a two kilometer road which leads to basins and waterfalls.
Hike to the Purcaraccia waterfalls
The walk is open to everyone. A well-marked 2 kilometer road leads to the basins After a walk in nature. We recommend that you wear sports shoes or walking shoes and bring them with you. water and picnic. There are no shops or water points on site!
How long does it take to get there?
In general, it takes about 2 hours round trip To reach the Purcaraccia waterfalls from the small car park near Bocca Di Larone. It all obviously depends on your walking pace, any photo breaks, or whether you're traveling with kids. Allow 3 hours to make sure you have enough time to get back to the trail before darkIf you come in the afternoon.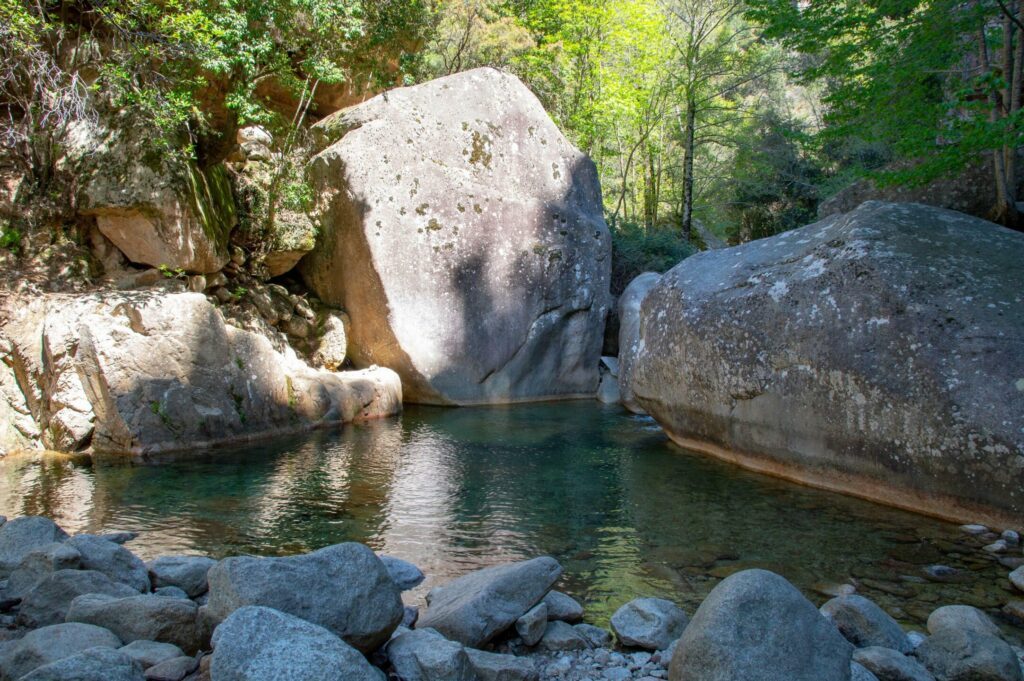 To avoid crowds and high heat, leaving very early in the morning arrive at the waterfalls before 10 am. The best time to enjoy swimming, view of bavella needles and take beautiful pictures without anyone disturbing you.
Bathe in the Purcaraccia waterfalls
Purcaraccia waterfalls, ideal swimming in summer, especially in the summer and early fall. After a walk in the middle of nature, the clear waters are perfect for bathing in the many natural pools. Beware, fresh: Average 15°C in summer !
Swimming in this natural place is not supervised. That's why it's so important to stay alert and be careful. Follow the safety instructions and prohibition signs. Therefore, be especially wary of children and avoid swimming in bad weather!
Canyoning at waterfalls
Hidden in the Bavella valleys, the canyon of Purcaraccia waterfalls offers an ideal adventure playground. It is possible to cross the canyon with the family. along a route of 3 to 5 hourswhere you can slide and go down amazing slides 2 ropes 40 meters high. Thrill seekers, this outdoor activity is for you!
Where to stay near Purcaraccia waterfalls?
There are several accommodation options available near the Purcaraccia waterfalls:
About 12 kilometers up the river, Col de Bavella inn It offers basic but well-equipped rooms and is ideal for a one or two night stay.
You can also stay U Ponte Grosso campsite offering pitches for tents, caravans or minibuses.
you can finally find many hostels and hostels in the area.
We recommend making a reservation in advance to ensure you will find a free room, especially during the peak tourist season.
When to explore Purcaraccia waterfalls?
The falls of Purcaraccia unfortunately fell victim to their success and Overcrowded during the summer season. We strongly recommend that you explore them in the off-season, early June or early September. Note that access is often closed during the summer when there are too many people or the terrain is dangerous.
Useful information
Finally, some additional information to organize your visit:
You can find more information about the Purcaraccia waterfalls on the official website. East Corsica tourist office.
Count approximately 1:15 to 1:30 by road to reach the waterfalls parking lot from Porto Vecchio.
plan 2 hours walk and return To reach the Purcaraccia waterfalls.
Purcaraccia waterfalls are an indispensable place for those who want to explore. wild face of corsica. However, this place, which is quite touristic, gets really busy in the summer months. FOR THIS REASON Prefer off-season travel to enjoy it in peace!
traveler's toolbox ?
Prepare, compare and book your trip with our selection of must-see sites:
? Reservation: find your hotel/accommodation worldwide
? HomeExchange: #1 home exchange platform
✈️ Skyscanner: absolutely the best flight comparator
⏱ LastMinute: the best offers to leave at the last minute
? RentalCars: search and compare rental cars
? GetYourGuide: book unforgettable tours and experiences