Mark off your trip to the island of Madagascar by visiting 8 must-see destinations. Picturesque towns, wilderness and dreamy shores, follow the guide!
Antananarivo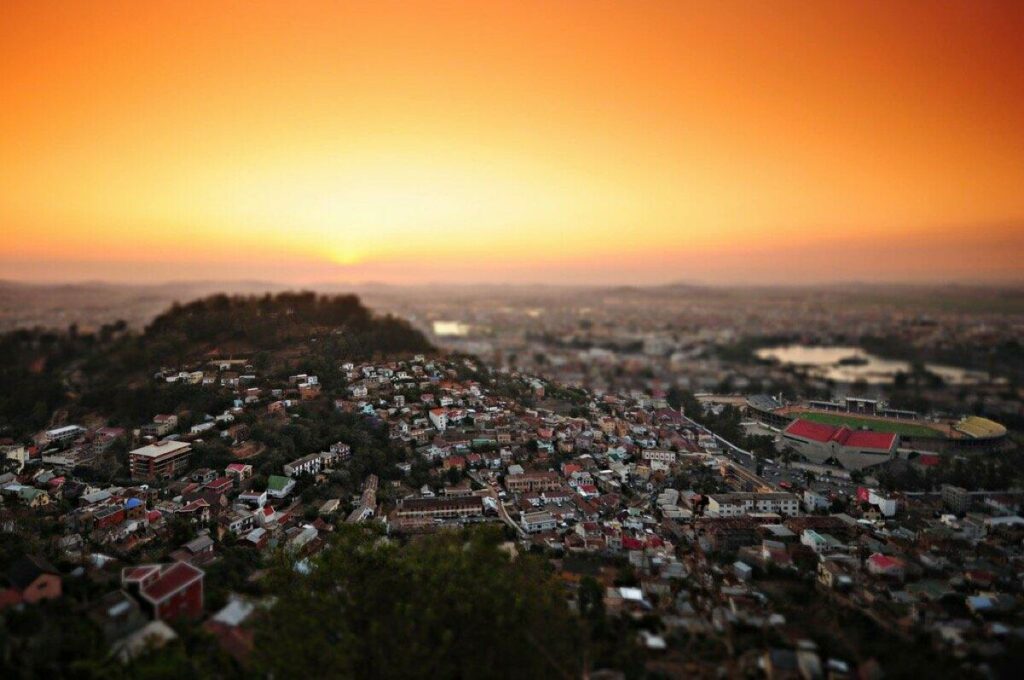 The country's sprawling capital spans its districts across 18 hills. Its galloping urbanization offers a variety of attractions.It is suitable for backpackers looking for a complete and sometimes brutal change of scenery, as well as more traditional tourists looking for historical monuments and traditional architecture.
These will happily browse Queen's Palace area and old colonial houses, while adventurers will meet locals in the Upper Town, crisscrossing winding streets. Perched on the many high points of the region, travelers will enjoy the unmissable belvederes that offer unparalleled views.
How to travel the island of Madagascar?

Distances in Madagascar are significant between different attractions. It can be interesting to fly to minimize travel time, especially if you enjoy limited accommodation. The Madagascar air network is well developed and covers a large part of the island. A unique and important train line runs the country from Fianarantsoa to Manakara. Count the same 13-hour journey for 180 km!
For short trips taxis-brousse and its urban equivalent, taxis-be it is ubiquitous and allows you to quickly move from one point to another. Be careful, because some agents can be unscrupulous, and sometimes just before departure, luggage is unexpectedly lowered from the roof! The most effective and safe solution is 4×4 rental. There are many service providers (for example, Madevasion) are distributed throughout the island, whose supply ranges from car rental with driver simple car rental.
Baobab Street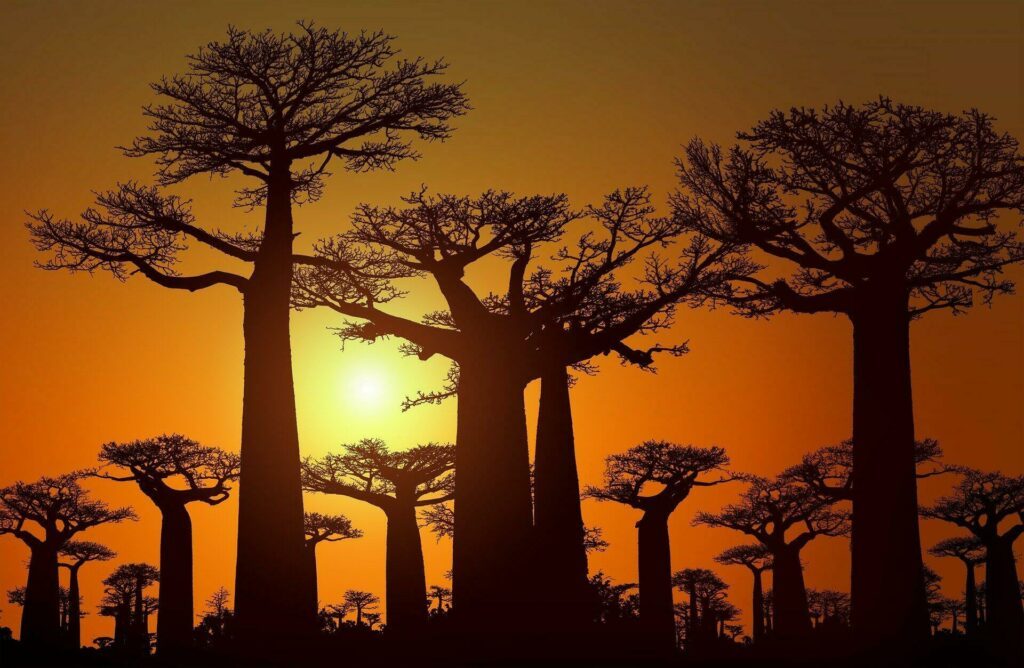 Just 20 km from Morondava, on the Belon'i Tsiribihina road, some twenty majestic baobabs that the people of Madagascar call "the roots of the sky" frame a dirt road that winds through grassland. The place, which has benefited from the temporary site status since 2007, It attracts more and more tourists who gather at sunset and sunrise to portray these centuries-old trees. Regular airlines are used to get there to Morondava, but can also be reached by road or even by boat. A chance for all lovers of majestic landscapes!
Nosy Be island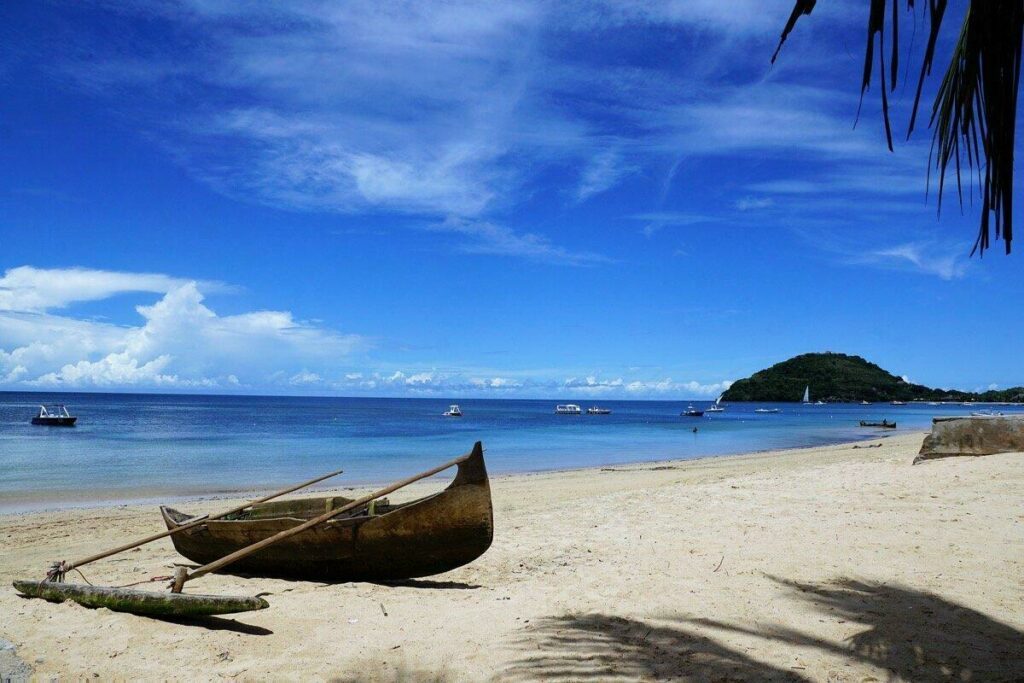 The island of Nosy Be is considered the indispensable pearl of Madagascar. And rightly so, the Big Island's geographical location in the northwest allows it to enjoy a tropical climate, making it ideal for sunbathing on its secluded beaches, gently sloping towards the open sea. Extreme sports fans will appreciate the many diving spots along the coast, while more idyllic tourists can take a leisurely stroll amidst sugarcane fields. For travelers who are tired from the journey, Nosy Be is a must-see and recommended holiday destination. !
Ambositra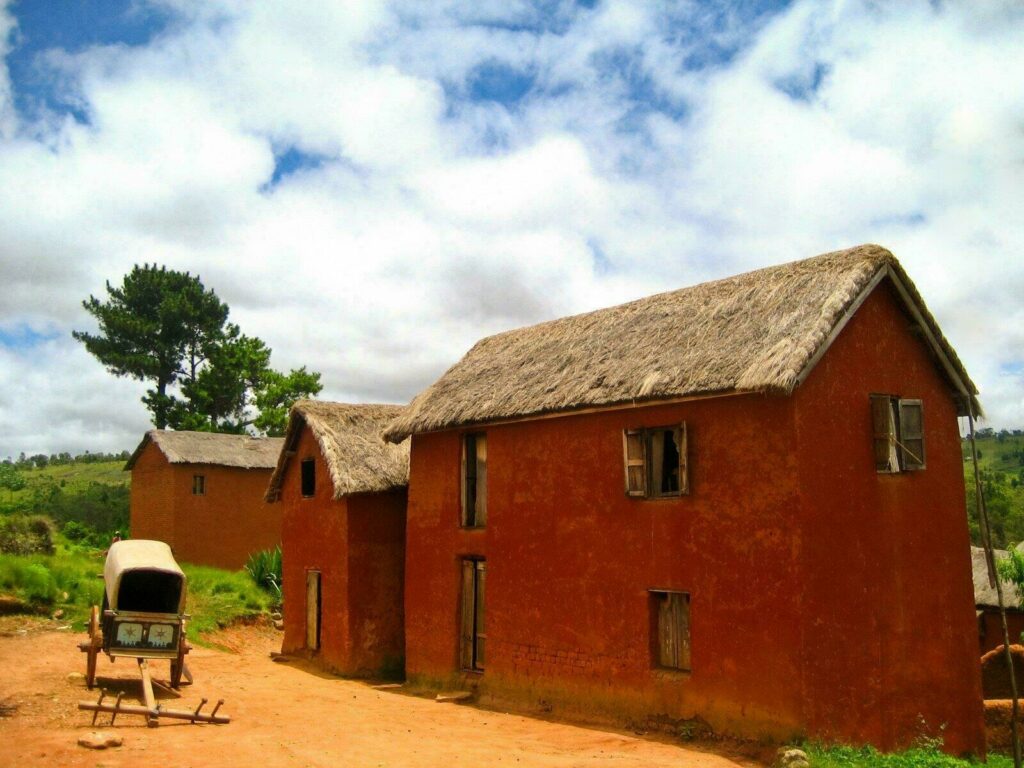 At the very center of the Big Island is a large peasant town typical of the region. The large number of harnessed zebus and beautiful brick and adobe houses that roam the city when needed give Ambositra a very special charm. we find there a soft and relaxing atmosphere where local artisans are recognized as masters, especially in the field of inlay and woodcarving. The surrounding villages scattered in the mountains surrounding Ambositra will be an opportunity for travelers to immerse themselves in the local culture and discover ways of life very different from the city dwellers.
diego suarez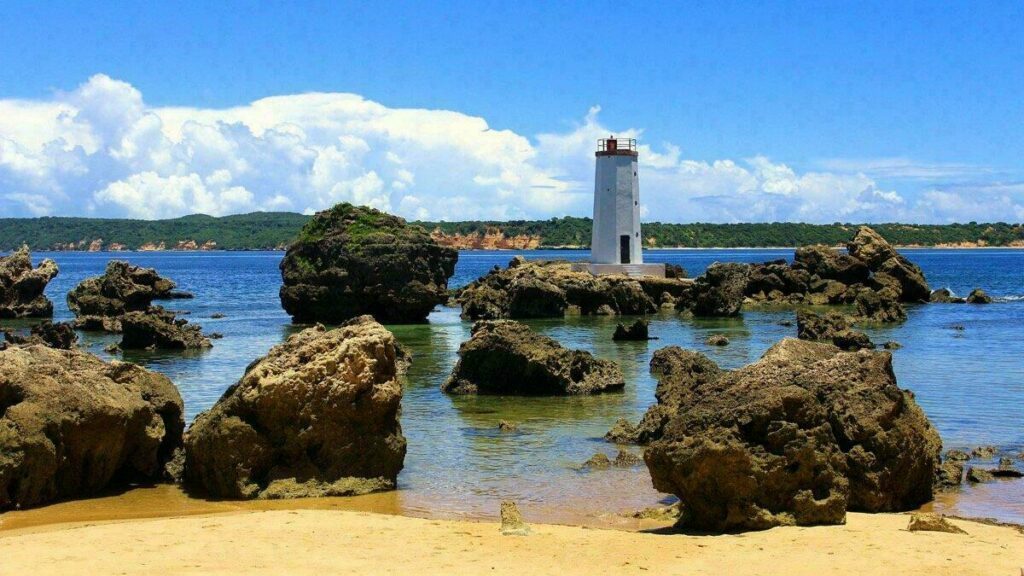 Located at the northern tip of the island and named after two sailors who discovered it in the 15th century, Diego-Suarez Bay is actually a community of 4 interconnected bays that open into a narrow channel towards the ocean. . The city of Antsiranana, the former French garrison and the island's third port, is strongly marked by colonization. and with a bubbling festive and multicultural identity, it seeks to exorcise its former demons. The not-to-be-missed hinterland is worth wandering around with its typical fishing villages and even the Montagne d'Ambre national park.
Saint-Marie Island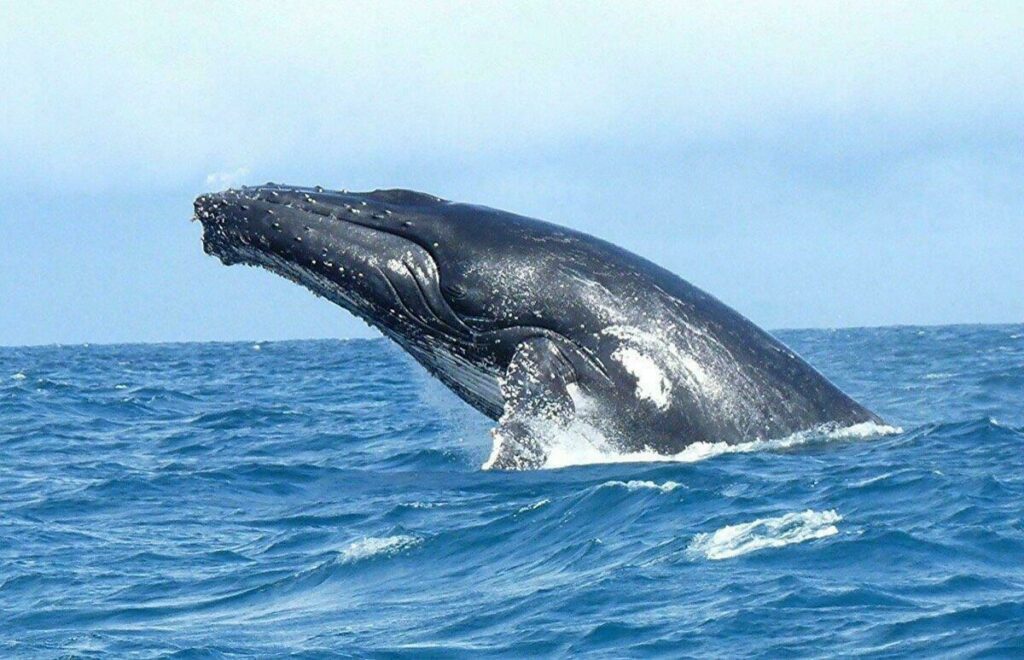 On the east coast, the Island of Sainte-Marie is best known. A haven and viewing point for must-sees humpback whales those who come here to take advantage of the calm and sheltered waters to give birth. Many service providers offer to take you as close as possible to the marine mammals without disturbing them. The coral reefs proliferating in the calm waters attract many scuba diving enthusiasts, and the interior of the island boasts incredible biodiversity and the locals are always ready to smile. A little gem to see urgently!
Isalo National Park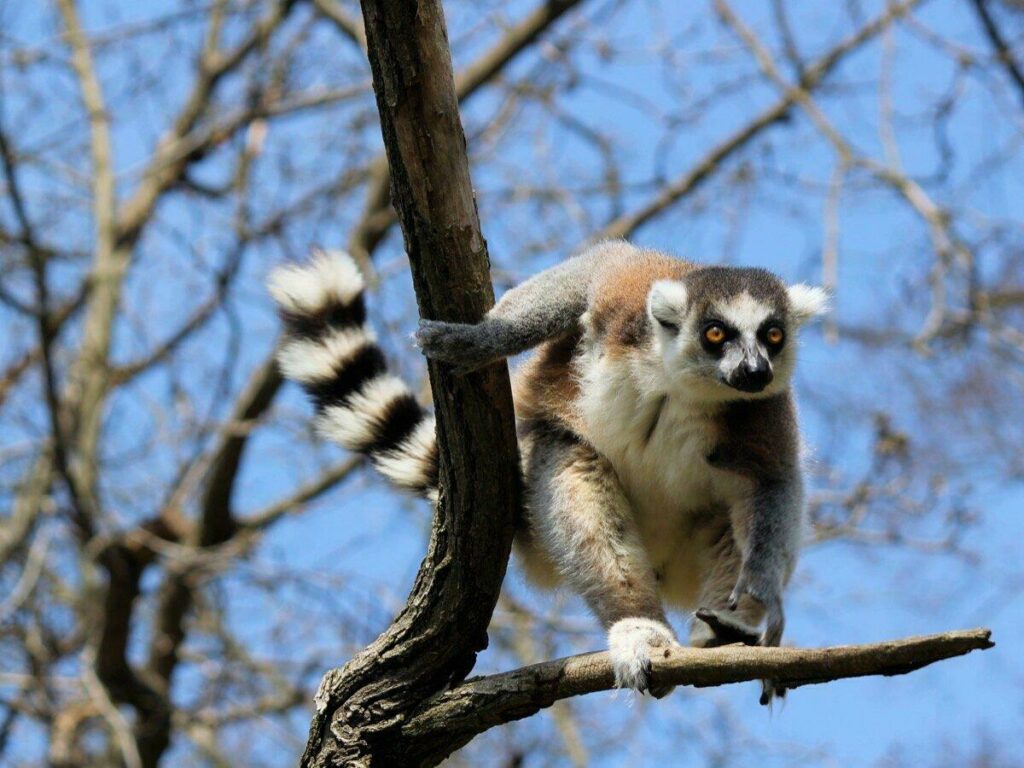 This massive massif of eroded Jurassic sandstone reflects the full diversity of Madagascar nature.. Very popular with travelers, this site offers the opportunity to see how the famous lemurs thrive in their natural habitat. The landscape is like the Big Island: wild, multiple, and picturesque. Deep canyons filled with dark caves follow forests of palm trees crisscrossing rivers filled with endemic species. With its breathtaking landscapes and many side paths, "Malagasy Colorado" is a trip in itself that will delight trekking and hiking lovers.
Tsingy de Bemaraha National Park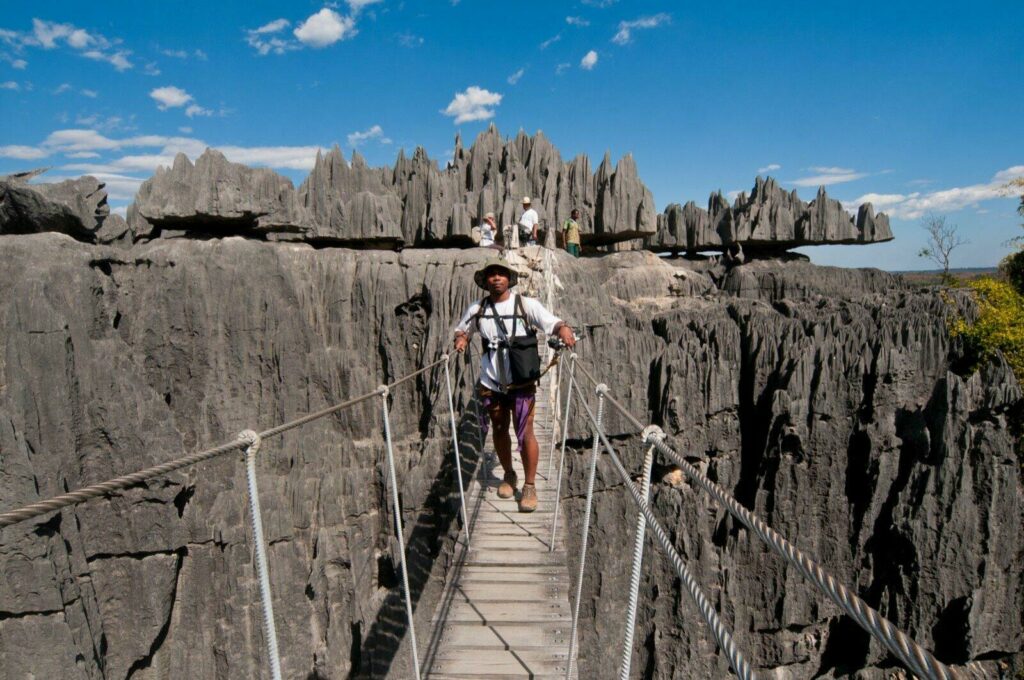 Tsingy de Bemaraha National Park, located 200 km north of Mondorava, is definitely one of the most spectacular geological sites in Madagascar. Majestic karst formations shaped like thin needles tens of meters high It is now listed as a World Heritage Site by UNESCO. The canyons and gorges roaming the rock piles are home to fauna and flora that are unique in the world, including birds of prey, all kinds of endemic plants, and over a dozen species of lemurs!
pure exoticism
separated from the African tectonic plate for thousands of years, Madagascar developed at its own paceEvolution takes strange paths, sometimes with surprising and spectacular results. The fauna and flora are shimmering, exuberant, sometimes endemic but always productive.
Madagascar culture is at the crossroads of African and Asian cultures and, like its pristine nature, the villages retain a strong identity that is as deep as the roots of their famous baobabs. Crowded towns bear the marks of various colonizations, milestones of a turbulent but rewarding history.
In summary, Madagascar is a unique nature in the world, a culture no less, and an eclectic as well as a friendly person! How not to succumb to the calls of pure exoticism?
traveler's toolbox ?
Prepare, compare and book your trip with our selection of must-see sites:
? Reservation: find your hotel/accommodation worldwide
? HomeExchange: #1 home exchange platform
✈️ Skyscanner: absolutely the best flight comparator
⏱ LastMinute: the best offers to leave at the last minute
? RentalCars: search and compare rental cars
? GetYourGuide: book unforgettable tours and experiences